TRI-CITY BUILDING TRADES & JA CONSTRUCTION CAREER EXPO:
Trades career expo gives teens something to think about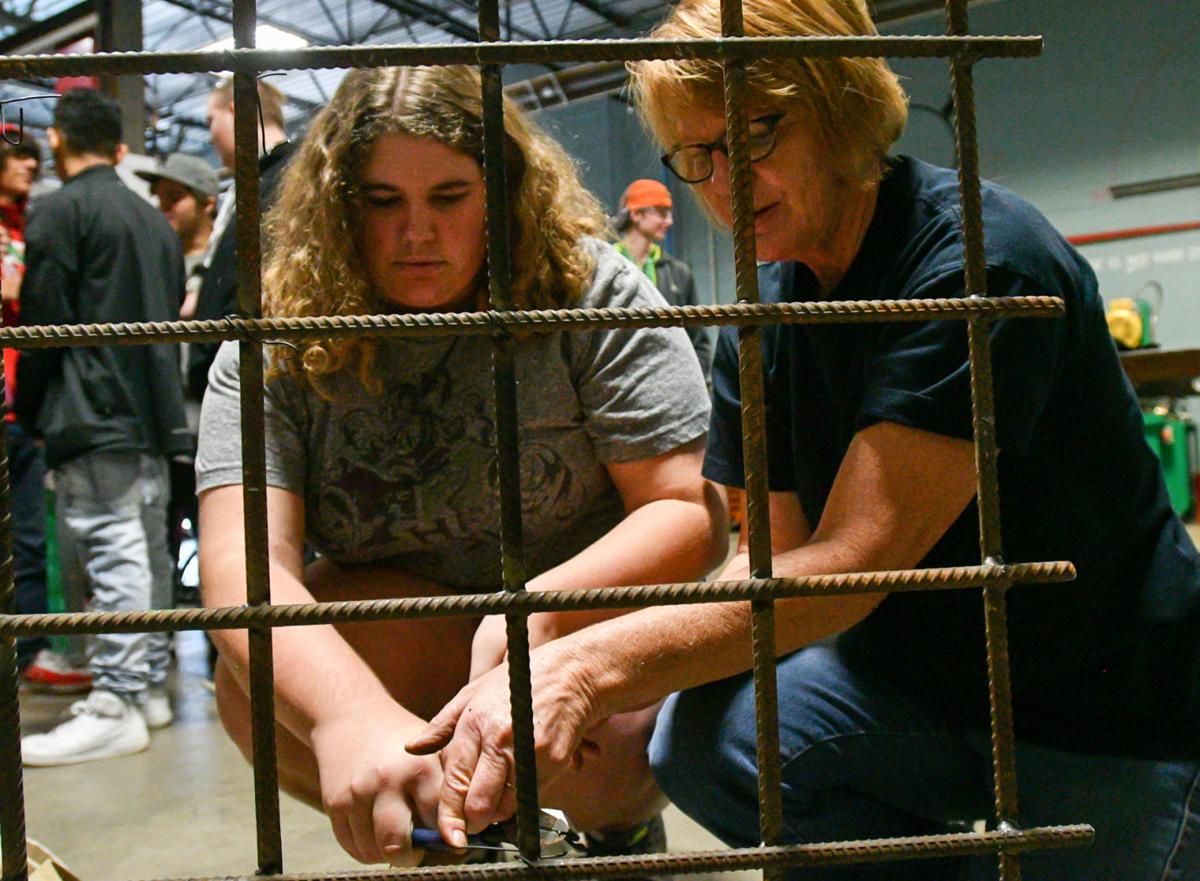 ROCK ISLAND — The main goal of the Junior Achievement High School Building Trades Career Expo is to open some eyes.
About 400 high school students from 16 Quad-City and vicinity high schools will attend the two-day event that concludes Friday at the Plumbers & Pipefitters Training Center on the southeast edge of Rock Island.
Students like Bettendorf senior John Eaton and Moline senior Elijah Roberson are exactly who the fair is meant for. Roberson said it opened his eyes to some opportunities about his possible future.
Eaton said he learned about working in masonry, architecture, carpentry, ironworks and pipefitting.
"About a month ago, I was thinking college was maybe what I want," he said. In many ways, Eaton's career thoughts reflect any generation: he wanted a fun career, with good pay that would make him happy.
But getting a chance to look at various trades, even try them for a few minutes, opened his eyes to different possibilities. "I was thinking about ironworkers last week," he said. "And now I am thinking about doing carpentry. I kind of changed my mind today."
The expo has been going on for more than a decade, said Jerry Lack, executive director of the Tri-City Building and Construction Trades Council. His group and Junior Achievement put on the event every two years.
He said the Tri-City Building and Construction Trades Council is happy to reach out to his school students anytime it can, especially juniors and seniors, who are on the verge of making their career decision.
"Even if the high school kids are not interested, they may have a relative or neighbor or a friend that they passed the information on to," he said. "It lets them learn more about careers in the construction trades. It gives them a better idea."
It exposes them to other career choices besides those that require college.
"It makes me think about my career choices in the future," said Ulrich Rush, a Moline High School sophomore. Careers that piqued his interest included working with cranes and cement masonry. "It seems interesting," he said.
Dawson Kirst, also an MHS sophomore, admitted he was happy just to be out of school for a while. He was already considering going into a trade upon completion of high school. He learned something Thursday, too. "It's good money for good work," he said.
Getting students' attention about career choices is part of the effort over the two days.
"The whole event is really to introduce career options in the building and trades to the students," said Tawnya Hambly, senior director of marketing and special events for Junior Achievement. Trade coordinators in various areas tell the students what skills and aptitudes are needed and what they could be doing in high school to prepare for a career in a trade.
Students got a chance to do some plastering and welding Thursday.
The idea for the expo came from educators who felt most student career fairs centered on careers that required a four-year degree. "Then we heard from the business community that our workforce is starting to retire and we need to replace them with the next generation of skilled workers," Hambly said. "So that's where this idea came about."
The trades expo seems to work for everybody. "The trades love it," Hambly said. "It gives them a chance to reach out and share about the need that they have in their industry."
The schools love it, too, she said. "It's a great opportunity for the kids."
Students are shocked at the pay, including that some in the trades eventually earn as much as $100,000 annually, Lack said.
Cody Mueller, who worked with students, teaching them some basic plastering, was hoping to see if any of the students liked the movements required in his trade. A third-year plasterer apprentice, Mueller wishes they had such an expo when he attended Davenport North.
"It opens them up to more than just one set trade or college," he said.