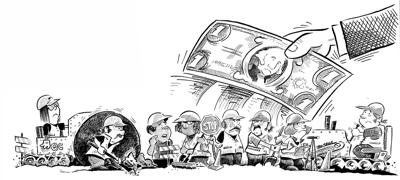 For months, labor unions and local contractors have been lobbying against the program, which state officials say is a way to deliver projects faster and at less expense. The state says it has the experience managing projects that come with the overhead and regulations that are part and parcel of federal-aid projects.
Unions say this would be a way to avoid federal prevailing wage requirements, and that it will lead to lower-cost, out-of-area contractors winning jobs that previously had gone to local companies. They also say the swap will bypass federal requirements to buy American products and ensure some contracts go to minority- and women-owned businesses.
The swap program basically works like this: The state would give local governments state dollars in exchange for their federal dollars for road and bridge projects. According to the Bi-State Regional Commission, about $15 million dollars in swap-eligible funds are in its four-year Transportation Improvement Program.
Iowa's Department of Transportation says this concept is not unique. Other states in the Midwest are doing it. And on these pages last week, Mark Lowe, the DOT director, wrote that the same amount of federal money, with all the attendant federal requirements, will be spent in this area – it will just be administered by the state DOT rather than local authorities.
Our concern is the impact this will have on local contractors. Consider Michelle DeCap, chief financial officer of Phoenix Corporation, of Rapids City, Ill. This Quad-City company has done projects on both sides of the river for years. DeCap told us that, even though the same amount of federal money might be spent locally, she believes the funds will be rolled into larger state jobs and there will be a smaller number of projects for her firm to bid on — meaning fewer opportunities for Phoenix, a certified woman-owned business, to win local projects.
A number of area organizations, many of them labor unions, have opposed this move. But so has the Quad-Cities Chamber of Commerce. The chamber worried that participating in the swap program "may allow for more businesses from outside the Quad-Cities region that don't follow [federal wage and discrimination] guidelines to garner work, which would have a direct negative impact on our region."
The law passed by the legislature assumes the swap will take place unless a local planning organization decides to opt out.
On Tuesday, the Transportation Policy Committee will take up this matter – and there is a measure on the agenda that only the Iowa members of the committee vote, not those who are from Illinois. Arguably, this is an issue that affects the entire community. Still, the Iowa members are Mayors Frank Klipsch of Davenport, Bob Gallagher of Bettendorf and Marty O'Boyle of Eldridge; Scott County Supervisor Ken Croken and Ray Ambrose and Kerri Tompkins, who are members of the Davenport City Council. The DOT also has a seat on the committee.
We respect the state DOT's wishes. The agency is a valuable partner in our community, particularly on the construction of the new Interstate-74 bridge. We also recognize that some smaller cities and counties may not have the staff and expertise to manage these dollars. But we have confidence in our local governments to be able to do so. After all, they have done it for years.
We also believe federal regulations that guarantee livable wages, the purchase of American products and providing opportunities for historically disadvantaged business owners are worthwhile – for local projects, as well as those managed by the DOT.
As we said earlier, we are concerned about local contractors, their employees and their families. Their wages and profits support other businesses and our community. The apprenticeship programs created as a result prepare our workforce.
The DOT has told us it would likely undertake more projects than it has in the past because of the swap program. We respect that goal, but we still must see the evidence.
This is a new program in Iowa. We believe it must prove itself. As it stands, we have doubts about what impact this would have on our local workforce and employers.
Our elected representatives, the people who sit on the Transportation Policy Committee, should take up their interests first. We urge them to reject the swap program.