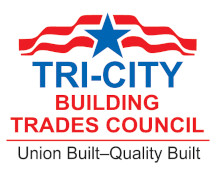 TRI-CITY BUILDING & CONSTRUCTION TRADES COUNCIL
PROCLAMATION NATIONAL APPRENTICESHIP AWARENESS & APPRECIATION WEEK
NOVEMBER 13th – 19th, 2023
WHEREAS,  the Tri-City Building & Construction Trades Council recognizes the urgent needs of the construction unions to train and maintain the most highly skilled trained workforce capable of meeting the needs of the industries in which we serve.
WHEREAS,   the institution of registered apprenticeship programs has proven over many years to be the most effective method for the transfer of traditional knowledge and skill from one generation to the next.
WHEREAS, registered apprenticeship is the proven vehicle to incorporate training on new and emerging technologies for the apprentice and the journeyworker that will secure America's future ability to sustain the rebuilding and maintenance of our infrastructure in an increasingly competitive global marketplace.
WHEREAS, recent U.S. economic circumstances and institutional education focus have created a generational gap in the number of trained, available and future journeyworkers to supply the immediate, short and long term needs of the building and construction trades
WHEREAS, registered and graduate apprentices understand the perseverance, technical aptitude, and team work required on the construction workplace as they strive each day to become more knowledgeable and capable through the structured related technical training and on the job instruction.
NOW THEREFORE, I Cory Bergfeld, President of the Tri-City Building & Construction Trades Council, call upon all local unions and their industry partners to take measure of their current and future skilled workforce needs during:
NATIONAL APPRENTICESHIP
AWARENESS & APPRECIATION WEEK
NOVEMBER 13th – 19th, 2023
 I FURTHER CALL UPON all of the building and construction trades partners to recognize the purpose and value of registered apprenticeship training and promote industry awareness and expansion.
IN SOLIDARITY,
Cory Bergfeld, President
Tri-City Building & Construction Trades Council